Steak Bite CBD Dog Treats
Are you on the hunt for steak flavored dog treats that contain CBD? If so – you're in the right place. Here at CBDGoldline.com we carry a wide variety of different CBD dog treats that come in many different flavors and concentration amounts.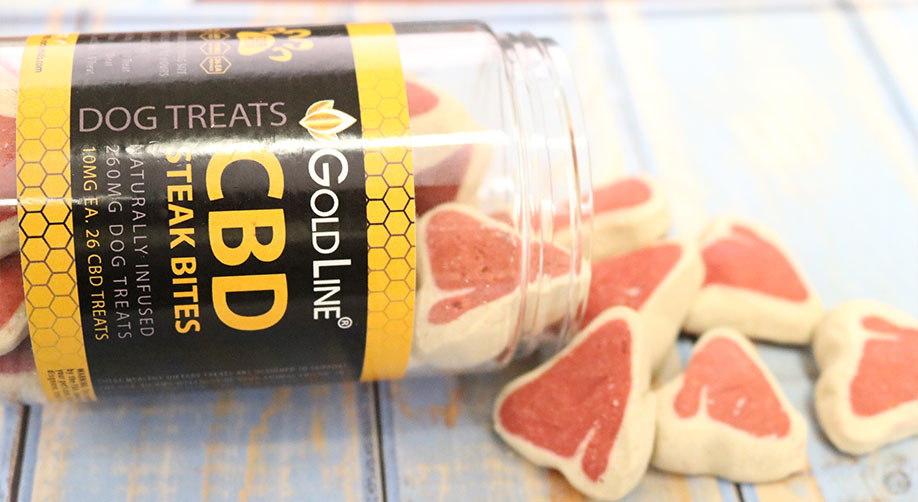 Did you know that CBD is great for reducing stress, anxiety and it also can reduce inflammation caused by arthritis or joint pain. This doesn't work for humans – it works for our furry 4-legged friends too! There are many studies being conducted by doctors and scientists around the world suggesting that CBD is a great herbal supplement that can help ease common ailments. Today, CBD is growing to become one of the most popular herbal supplements on the market. At CBDGoldline, we proudly carry our certificates of analysis and lab results on our website so that our customers can shop with confidence when purchasing CBD products from our website.
How Much CBD Should I Give My Dog?
Depending on how big your dog is, you might just want to start with a single treat or half treat if you have a small tea cup dog or miniature dog. The Steak Bite Dog Treat container comes with 260 MG in total volume of CBD. Each treat contains 10 milligrams which is usually enough or a dog that is between 50 and 100 lbs, which is basically a medium sized dog. Dogs that are over 100 lbs can take up to 2 treats a few times per day.
There is no need to worry about giving your dog too much CBD as there are no harmful side-effects other than gaining weight from too many treats. Dogs that weigh less than 50 lbs can start off with a half treat but if you don't notice anything you should increase the dosage amount to one full treat. Like any dog treats, you should never over-feed them to the point where your pet gains an unhealthy amount of weight.
Does CBD For Dogs Help If They're Scared of Thunder or Fire Works?
If your dog suffers from anxiety when there are loud noises in general then CBD is definitely something you should consider for your pet. Many customers have found that CBD greatly reduces the anxiety and fear that dogs have of fireworks and thunder, some even report that they have seen a complete turn around in behavior during thunderstorms from their pets that normally would be very scared during a storm. During holidays like the fourth of July and New Years Eve, CBD can be a great supplement for your dog to stay calm during the big shows.
There tons of case studies from pet owners and even veterinarians that suggest CBD is great for dogs with anxiety from loud noises and even separation anxiety. In fact, in the Washington Post an article was released stating that Jeffrey Power of vice chairman of the American Veterinary Medical Association's Council on Biologic and Therapeutic Agents – gives credit to CBD for helping his pet St. Bernard find relief from anxiety caused by thunder and fireworks.