Milk-Bone Dog Treats With CBD
CBD is becoming one of the most sought-after pet supplements due to many case studies that suggest CBD can ease common ailments. There are many doctors, scientists and veterinarians that are suggesting that CBD can help dogs with anxiety, stress, arthritis, inflammation and more. With the many benefits that CBD can provide to pets and humans, it's no surprise that CBD is now one of the most popular herbal supplements on the market.
Because CBD is so new, its not regulated as well as most supplements. This is why consumers must be cautious of purchasing CBD infused dog bone treats, especially if the company doesn't have a certificate of analysis showing the true ingredients found in the dog treats. Here at CBDGoldline.com we only carry the highest quality CBD products for both humans and pets. Check out our wide variety of CBD dog treats or our complete line of CBD products here.
Highest Quality Crunchy Dog Bone Treats With CBD
The traditional milk-bone dog treat has been the go-to treat for many dog owners because they're light on the stomach, crunchy and delicious. Now you can get your dogs favorite style of dog treat infused with CBD and made with all natural ingredients. That's right, we carry all natural CBD infused milk-bones for dogs that have 10 MG of CBD in each treat. The entire jar comes with 300 MGs of CBD which breaks down to 30 milk bone treats. This is enough to last up to a month if you have a small to medium size dog. Our customers have reported that their 4-legged friends are loving the flavor of these milk bone treats and they're also really benefiting from the CBD.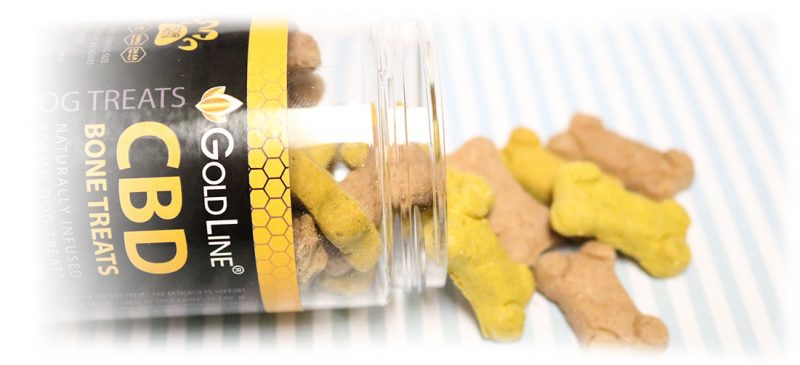 If you're trying CBD for your dog for the first time, milk bones are the best bet as most dogs love the flavor of a milk bone treat. For dogs that weigh up to 50 lbs, a half of a treat is enough every 12 hours. If you have a dog that is between 50 and 100 lbs, you can use up to 1 full milk bone treat every 12 hours. For pet owners with dogs that exceed 100 lbs in weight, you may give your dog up to 2 treats every 12 hours for optimal results.
What Do CBD Dog Treats Do For Dogs?
Have you ever noticed that your dog acts very anxious or scared during thunderstorms or on holidays that involve loud fireworks? If so – this is likely because your dog is suffering from anxiety caused by loud noises. Loud noises tend to stress dogs out because they have hyper-sensitive hearing. CBD is said to greatly help reduce anxiety in dogs that are acting fearful or anxious during thunderstorms or holidays like the 4th of July that involve loud fireworks.
Dogs that are nearing senior citizen age often suffer from hip dysplasia or arthritis in several joints. CBD is said to help reduce inflammation and joint pains caused by arthritis in humans and pets too. If you take your senior citizen doggie out for exercise, you can help them reduce inflammation and muscle soreness by giving them a CBD dog treat like many of our customers.