CBD Gummy Bears & Gummies for sale

Cannabidiol (CBD) is quickly becoming one of the most popular herbal compounds around the world which have been known to help with common ailments. One of the more common ways to consume CBD today is through CBD gummies.
CBD gummy bears are among the most popular forms of CBD edibles on the market today. This is likely due to a feeling of nostalgia that people get when seeing the traditional gummy bear that most people enjoyed while growing up. We carry a variety of cannabidiol gummies in different package sizes and concentration amounts. All of our CBD products are professionally tested in a laboratory, to learn more about our Goldline CBD lab reports, click here.
On this page, you will find a wide variety of different CBD gummy treats for sale. If you're new to CBD, you may want to check out our home page to explore a wide range of CBD edibles for sale, Bath Bombs, Capsules, Cannabidiol Oils, and even pain creams!
Types of CBD Gummy Edibles
While the traditional gummy bears are the most popular form of Cannabidiol infused treats, there are certainly various other types of shapes, sizes, and types of CBD candies. We carry various types of candies such as CBD sour gummies that come in a concentration amount of 25 milligrams per serving
When it comes to CBD gummies in general, there are typically two types to choose from. "Full-spectrum" is one and "coated" would be the other. Coated CBD gummies for sale on our website are known to start working faster than the full-spectrum because the treats are coated with CBD and therefore digested faster when ingested. Full-spectrum CBD gummies usually take a little bit longer for the user to start feeling the effects. If you're looking for a "fast-action" edible CBD gummies, then coated would be to way to go.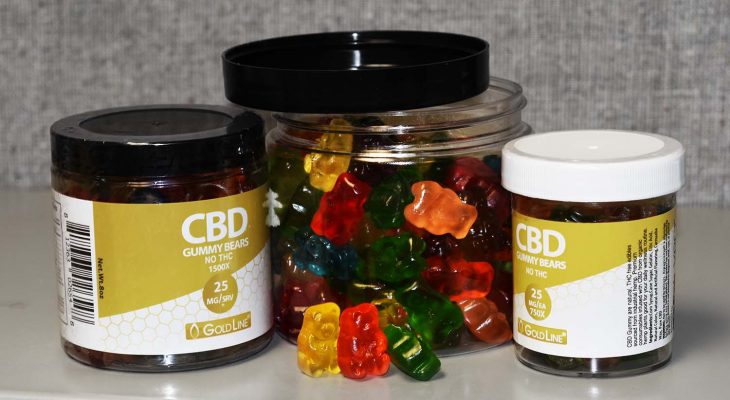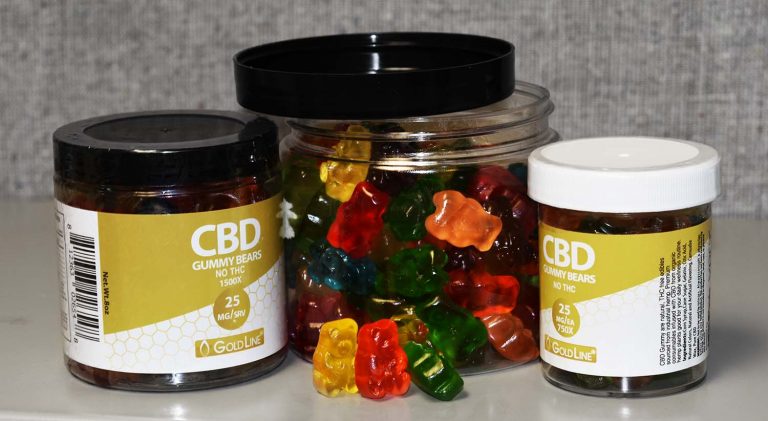 Regardless of which type of gummies you go with, it takes time for CBD to kick in. Like any other supplement or medicine, it needs to be absorbed into your bloodstream and then spread throughout the Endocannabinoid System. There the Cannabinoid receptors found inside of CBD are able to bond with your neural receptors. This is when you begin to feel the effects and benefits of CBD. The time frame varies for each user and sometimes has nothing to do with the concentration amount. On average most users say that it takes between 10 and 30 minutes to start working to the point when you can really feel the effects of consumed gummy bear edibles.
How Many MG Are in CBD Gummy Bears?
Most of the products that we carry are going to contain a minimum of 10 milligrams per serving and can be purchased in jars that range in size from 4 ounces.
Depending on the user, some customers prefer to have a lower-concentration (around 10-15 mg per serving) while others who want to experience more of an effect from the CBD choose to go with higher levels of concentration (around 50 MG per serving). The connoisseur of CBD gummy treats may be inclined to go with our Full Spectrum Reserve Gummies that have 25 Milligrams per serving.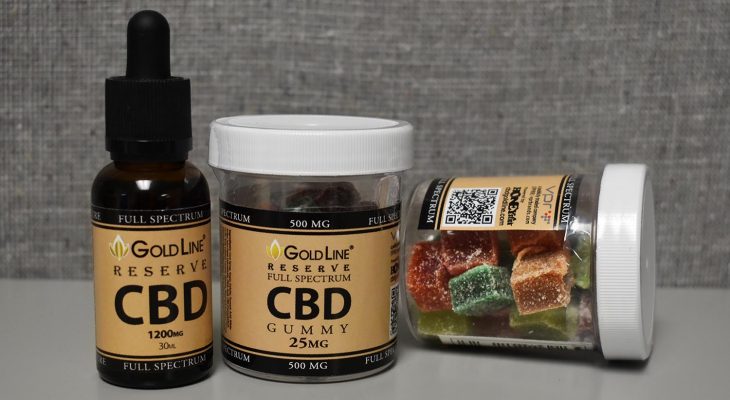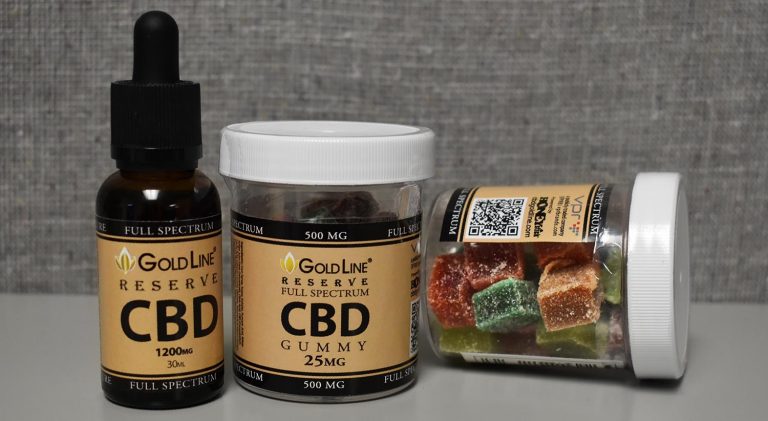 As our catalog expands, we will add more and more variety of edibles that range in concentration amounts. Continue to check back with us online to see what new products might be added to the online shop.
CBD Gummies for Sale in a Variety of Package Sizes & Flavors
We believe that it's important to provide as many options as possible to our customer that are shopping on our website. This is why we try to add more and more product size options as we grow our online catalog. This gives our customers flexibility when deciding to purchase their organic CBD gummies from our store.
When shopping on our e-commerce website you will see that we carry a wide variety of products, not just gummy bears infused or coated with CBD. We also have several different sizes of each type of product that we carry, for example, we offer a smaller package of CBD gummies that you can purchase our 4 oz jar of CBD gummies or you can choose a bigger size jar like our 14 oz 1000 MG jar by Dr. Goodhemp.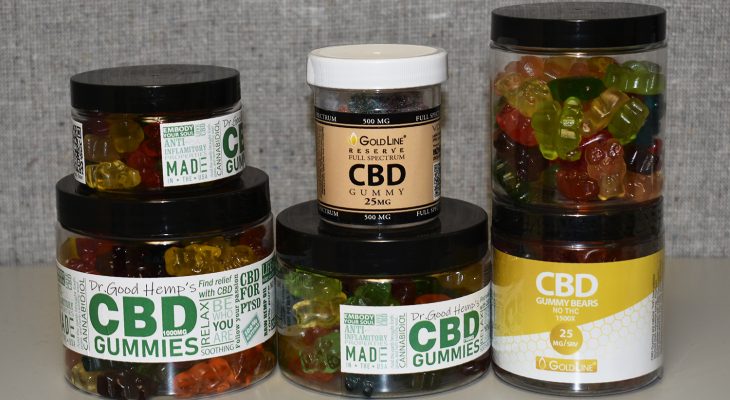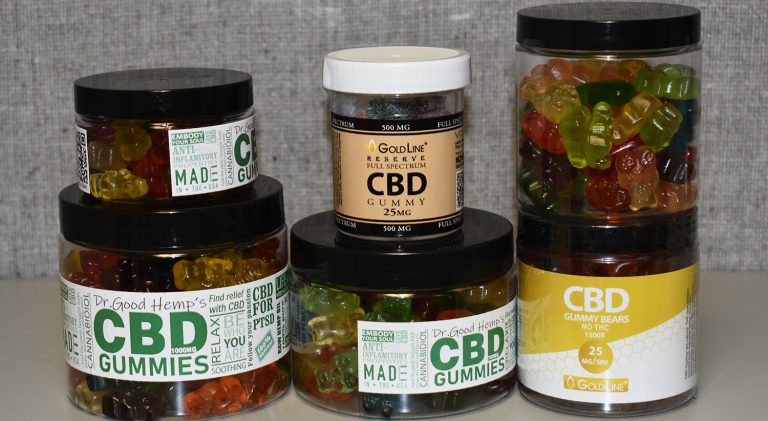 If you want to purchase in bulk, we offer special pricing that can be received if you call or email us requesting a quote for bulk order. We also offer affiliate opportunities which you can learn more about by clicking here.
Gummy bear edibles come in a variety of different flavors to suit many specific cravings. Some people prefer sour gummies, while others prefer the traditional sweet tasting gummy. We carry both so that you're able to get the exact taste that you enjoy while consuming CBD. Be sure to come back to our website and check for new flavors that are uploaded to the online store on a regular basis.
Enjoy Great Pricing Year-Round on CBD Goldline
Here at CBDGoldline.com you will get laboratory tested CBD products at the best cost. This provides the best value to CBD users because we provide the best quality products without compromising the affordability of our products. For more information about our company including resources for learning about CBD products, be sure to visit our blog. You can also connect with us on Facebook or Instagram to keep in touch with our online community and staff.
As you shop through our website be sure to check for special discounts and products that are on sale. We often have holiday savings and products that are randomly discounted. If you have any questions about our website or products don't hesitate to contact us. Thank you for stopping by our online shop, we look forward to doing business with you.