Beef Jerky CBD Dog Treats For Dogs
Are you considering CBD for your 4-legged best friend? CBD is one of the most popular herbal supplements on the market today because of the many benefits that it can provide. Studies suggest that cannabidiol can help with arthritis related pains, inflammation, stress, anxiety and sleep insomnia. Pets are also able to take CBD since its all-natural and it doesn't contain THC which is the active ingredient in Marijuana that gets you high. There have been many studies by veterinarians that suggest CBD treats for dogs can really help them with arthritis and anxiety.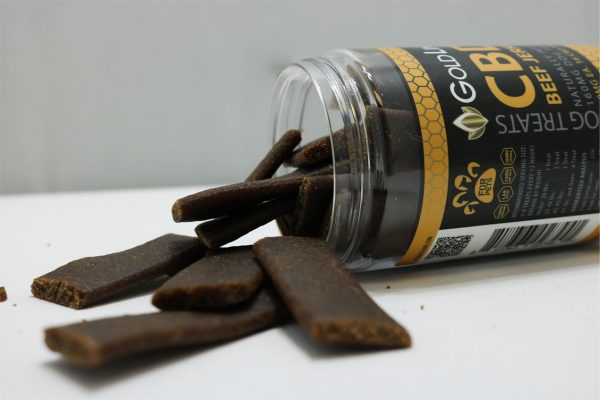 Here at CBDGoldine.com we carry CBD infused dog treats with 10 MG per serving. This is the perfect amount of CBD for a small to medium size dog or for a dog that you are just getting to take CBD for the first time. If you have a really small dog like a tea-cup Yorkie, you might want to try breaking the treats into half pieces at first to see if they show signs of the CBD actually working before increasing the dosage.
Will CBD Help Dogs with Anxiety or Arthritis?
If your dog is anxious or suffers from any type of anxiety related disorders, CBD can potentially help your furry 4-legged friend. By introducing CBD treats for dogs into your pets daily supplemental diet, you may experience that your pet is less anxious and much calmer.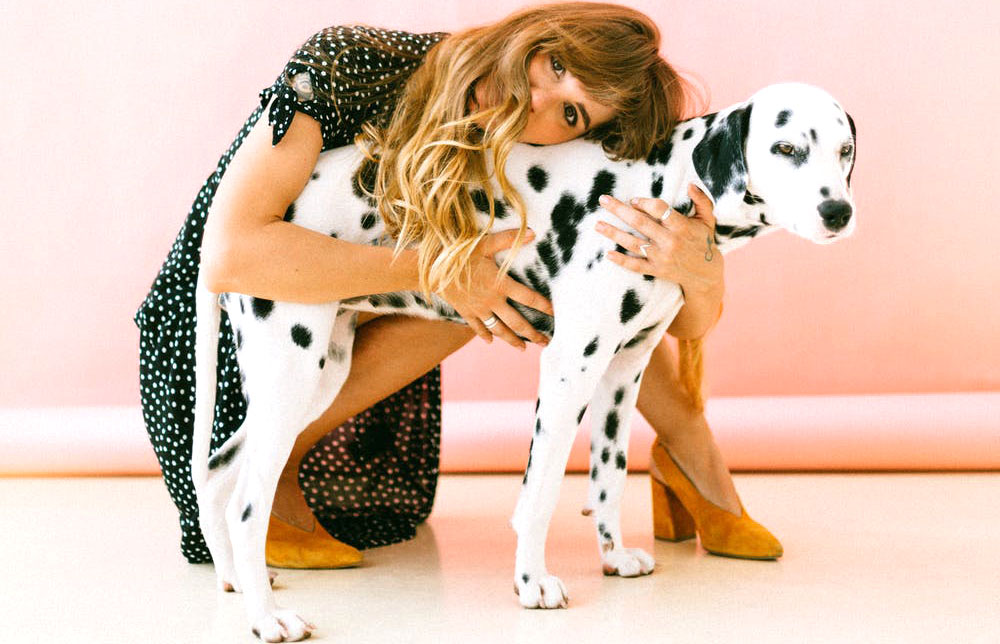 On days like the 4th of July or New Years when there are often loud fireworks going off, CBD can be very useful. Especially for pets that get extremely anxious from fireworks historically. Another great time to use CBD for dogs is when there are loud thunder strikes from a storm. Many of our local customers from Florida really benefit from CBD dog treats during the stormy season because they have dogs that get scared when a bad storm hits. They simply give their dog a dog treat infused with CBD and they say that it really helps to keep the dog calm. One customer stated that his dog would never leave the closet during a storm because he was so scared of the thunder. Once he tried giving CBD to his dog he was courageous enough to come out relax with his owner during storms like it was no big deal. In fact, this same scenario happened to many other customers and even Ella – a 10 year old St. Bernard that belongs to Jeffrey Powers – vice chairman of the American Veterinary Medical Association's Council on Biologic and Therapeutic Agents, gives credit to CBD for easing his dogs high-levels of anxiety when there were storms or fireworks going off nearby.
Another great way to help your dog by using CBD is If you have a dog that is part of a breed that is notorious for hip dysplasia you may notice that they suffer from hip pain. It's very common to see this in Pitbull's, German Shepherds, Grey Hounds, Dobermans, and other large breeds, especially when they reach old age. If you notice they have a hard time getting up or staying active, you might want to try CBD for a while to see if it helps. Many customers believe that CBD has helped their pets become more active and have noticed signs of reduced hip or joint pain.