CBD Beef Wrap Dog Treats
CBD is quickly becoming one of the most widely used herbal supplements on the market due to the fact that it's all natural, non-harmful and it provides many health benefits. Studies show that when taken, CBD can help reduce stress, anxiety, pain, sleep insomnia and more. While CBD is most commonly used by humans, pets can also benefit from CBD dog treats and it's perfectly safe for dogs to take CBD.
Here at CBDGoldline.com we carry some of the highest quality CBD dog treats for sale online. Our wide variety of flavored treats give customers a great selection to choose from. One of our most popular flavors of CBD dog treats are the beef wraps which contain beef and cheese flavors. If your pup was raised with beef wrap treats as their favorite treat, they'll be sure to love the CBD beef wraps which contain an estimated amount of 10 MG of CBD in each treat.
Is CBD For Dogs Safe?
Many customers ask us: "Is it safe to give dogs cbd?" and the answer is a resounding YES. CBD is all natural and can actually help dogs by relieving anxiety and or stress caused by loud noises. Many pet owners turn to CBD dog treats to help ease the anxiety that their dogs suffer from during the 4th of July and New Years Eve when the fireworks go off.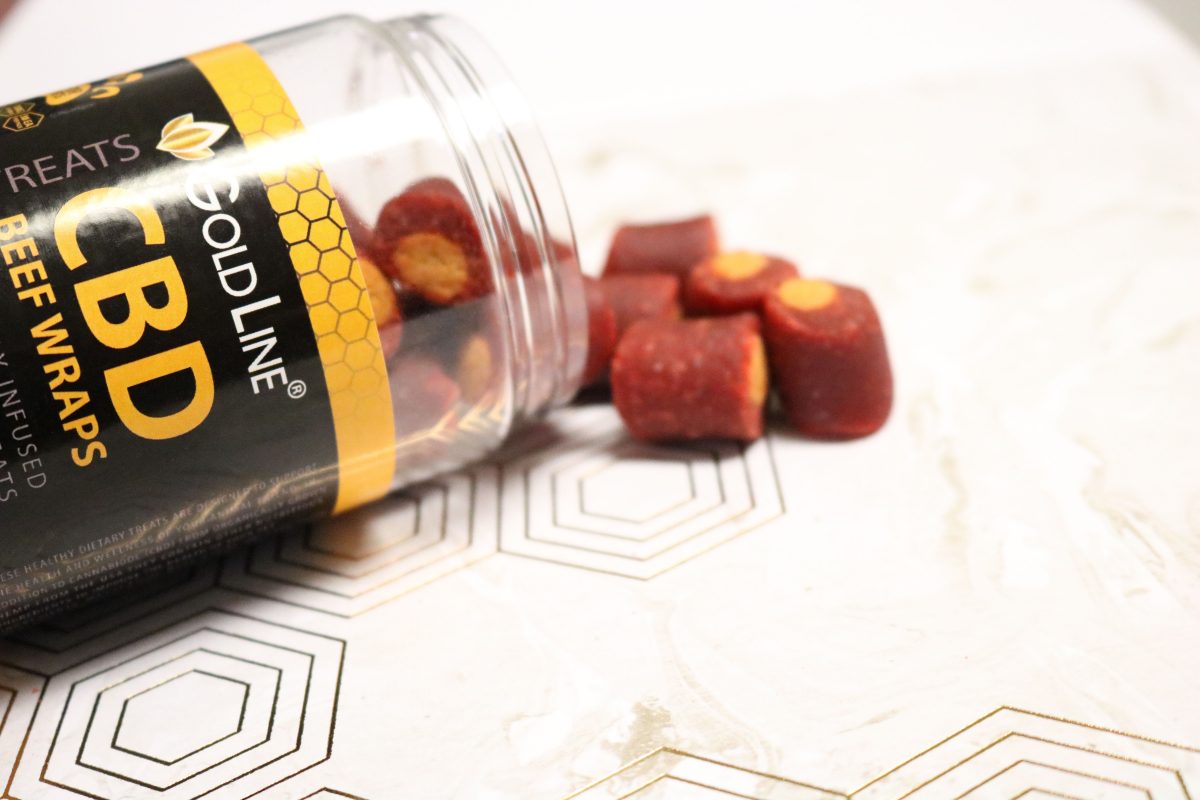 Typically, dogs are also scared of thunder and lightning, some dogs even suffer from high levels of anxiety that can be very difficult to deal with. CBD can greatly help your pet during these times, in fact, the vice chairman of the American Veterinary Medical Association's Council on Biologic and Therapeutic Agents even gives his St Bernard "Ella" CBD during thunderstorms to help ease her anxiety.
Many veterinarians share the same sentiment about CBD however – because the laws regarding the legal status if CBD is still in a "gray area" they're not allowed to prescribe it or recommend it legally.
How Much CBD Should I Give My Dog?
Many customers want to know how much CBD they should give their dog and it basically all depends on how much they weigh. Smaller dogs require less CBD while bigger dogs require more CBD to get the desired effects. We have a recommendation that can be followed but you can always use your own judgment if you feel that your pet needs more CBD. If you're using CBD to treat anxiety, you should be able to notice the CBD working if the right amount is given. If they still show signs of anxiety after taking the recommended dosage, you can safely increase the dosage without worrying. There are no negative side effects from taking too much CBD in dogs or humans.
For pets that weigh less than 50 lbs, we recommend only giving your dog half of a treat every 12 hours. After the initial dose, you should wait up to an hour to see if the CBD is starting to relieve your dogs anxiety or inflammation. For pets that weight between 51 and 100 lbs, we recommend giving your dog 1 treat every 12 hours. For dogs that are over 100 lbs, we recommend up to 1.5 treats every 12 hours.