CBD Gummies – Large Container(12oz)
Did you know that CBD has been known to provide relief from pain caused by arthritis? It also is known to help reduce inflammation as well as stress and anxiety. There are many studies being conducted around the world that suggest CBD has no negative side effects and that it can be used as a supplement to help with many common ailments. Today, you can find CBD in many forms including CBD pill capsules, CBD pain cream, CBD oils for vaporizing, and more. Cannabidiol-infused gummy bears are undoubtedly the most common form of CBD edibles that are being purchased both from online CBD stores and in CBD stores locally.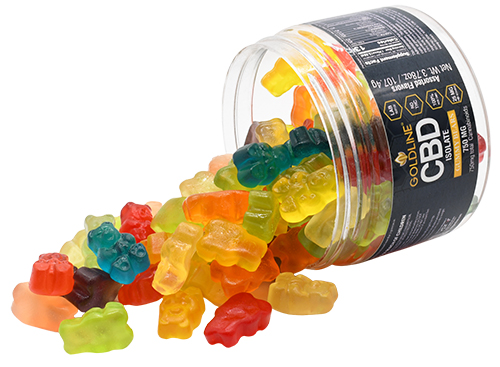 It's important to educate yourself when purchasing CBD from online dealers or local stores. You should always check the certificate of analysis of any CBD product that you purchase or consume to ensure that it is not containing any additives that are not safe. Our 12 oz jar of CBD gummy bears is accompanied by a certificate of analysis which can be found on our website's lab report section. We proudly show our certificates of analysis to let our customers know that we only sell the highest quality products. Since our CBD is a full-spectrum isolate, it contains 0% THC and is all-natural.
Bulk CBD Gummy Bear Jar
If you're tired of having to resupply CBD gummy bears because you usually order in small quantities, then this is the product for you. Our CBD gummies contain absolutely no THC which means you get all the benefits from CBD without getting high. CBD edibles come in a wide variety of flavors and forms, but these gummy bears come in a variety of flavors in one jar. They're very low in calories compared to baked goods that often are sold with cannabidiol butter.
How Many CBD Gummies Should I Take?
As a general rule of thumb, we recommend starting off with only one gummy bear and then waiting about 30 minutes to an hour to see if you notice any reduction of anxiety, stress, or pain. If you don't feel that you're getting the benefits your desire from the single gummy, it's perfectly safe to take a second gummy bear as there are no known side effects from taking CBD. Typically, you will notice that you're in a much calmer state of mind and you aren't going through any feelings of anxiety within an hour of taking a gummy or 2.
Just like any supplement, if you weigh more, you may need to take more than the recommended dosage. Customers that weigh less than 249 lbs usually find the results they're looking for after taking only 1 gummy bear but for individuals that weigh over 250 lbs, 2 gummies are probably better.