Double Strength CBD Gummies (25 MGs Per Serving)
CBD is growing in popularity as a herbal supplement for many reasons. First – most people are using CBD because of the many health benefits that it is known to provide. Cannabidiol is derived from the Marijuana plant but it doesn't contain THC which is the active ingredient in Marijuana that gets you high. Today – CBD is being offered in many forms ranging from vape oils, wax, edibles, pain creams, capsules, bomb baths and much more. When taking CBD, you get a sense of relaxation and calmness while also benefitting from CBD's anti-inflammatory properties. CBD is also known to greatly reduce stress, anxiety and more.
Although CBD is not heavily regulated, there are many studies and advancements being made by doctors, scientists, veterinarians and physicians around the country. These studies are showing strong signs that suggest CBD is truly one of the most beneficial and safe herbal supplements on the market.
Most CBD gummies contain about 10 to 15 MG per serving including the ones that we carry on our online CBD store. For many CBD users, the average concentration amount of CBD in most gummies may not be enough. It could be because after taking CBD for a while, you end up developing a tolerance for it that causes you to need to take more CBD to feel the desired effects.
Whatever the reason may be for wanting higher strength CBD gummies – we have created double strength CBD gummies that contain up to 25 MG per serving! These gummies have twice the strength of a normal gummy which means you'll get the same amount of CBD while only eating half of the calories. Like all of our CBD products – these gummies are lab tested for quality control.
How Much CBD Should I Take?
In most cases, we recommend taking enough CBD to feel the desired effects. For most people, 25 MG is more than enough to start feeling the effects of CBD. Some CBD veterans can take more but for the average user, 25 MG will usually provide the desired benefits you're looking for.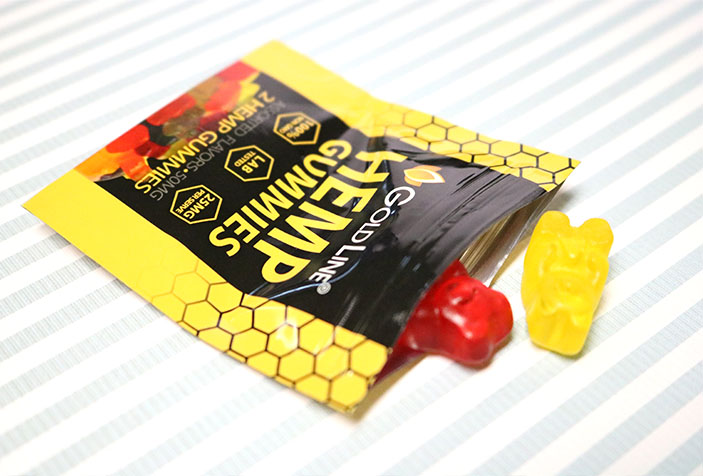 Many studies are showing CBD benefits for anxiety or stress. Take a few gummies then wait about a half hour to see if you notice that you're in a much calmer mind-set and less stressed. If you still feel stressed or feel anxiety, you can take a few more gummies and wait another half an hour to see if the CBD starts to work better.
This can also be applied to those that are suffering from inflammation pain or any type of joint/bone pain. Many customers use CBD after exercising to reduce the effects of post-work out muscle soreness. These gummies are excellent for those suffering from knee-pain or lower back pain as it is known to greatly reduce inflammation in those areas. We also offer a topical pain cream for spot treating soreness or inflammation which also works very well.