CBD Gummy Bears Medium +/- 8oz Jar
If you're looking for a herbal supplement, known to be able to ease stress, anxiety, and even pain then look no further. Here you will find an 8 oz jar of multi-flavored CBD gummies that are all-natural and accompanied by a certificate of analysis to authenticate the quality of the CBD used. These specific edibles are CBD-coated gummy bears with approximately 25 MG per serving. They're infused with an isolate CBD which means there is no THC or other additives, this is pure and unadulterated, some of the highest quality edibles on the market.
CBD – aka cannabidiol is one of the most effective and safest herbal supplements on the market today and is available over the counter. It is extracted from the marijuana plant but does not get you high. CBD is known to provide a soothing and calming effect which is a great way to help you fall asleep if you're dealing with a lot of anxiety or stress at night before going to bed. There are many types of CBD products that we carry ranging from CBD edibles, topical pain creams, vape oils, and even bath bombs. CBD is even safe for dogs which is why we also carry CBD dog treats. According to the Washington Post, even the Vice Chairman of the American Veterinary Medical Association's Council on Biologic and Therapeutic Agents uses CBD for his St. Bernard Ella who suffers from anxiety during thunderstorms.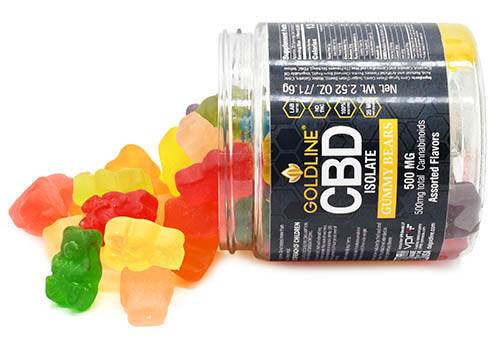 Why Should I Start Using CBD?
There are many reasons why people start to take CBD as part of their daily supplementary diet. For many, it's because they work a very stressful job and/or have a lot of anxiety after a long day of work. CBD is known to greatly reduce common stress and anxiety quickly. After taking a few CBD gummies, customers explain that their feeling of anxiety and any stress they have starts to fade away.
Many customers who suffer from common injuries also use CBD to reduce pain. The most common story that we hear is that customers who have knee pain or lower back pain often take CBD and they notice that the pain starts to lessen. CBD works as a great anti-inflammatory and can really help those that suffer from arthritis as well. Articles can even be found on well-known websites like Arthris.com with plenty of research and information suggesting that CBD can be a great supplement to help reduce the pains associated with arthritis or loss of cartilage.
Some customers report that they are able to overcome sleep insomnia with CBD and that they are able to stay asleep for longer periods of time when using CBD. In some cases, customers even explain that they are finally able to have a good night's sleep after years of not being able to due to sleep disorders or anxiety that prevented them from being able to sleep well.
We recommend starting off with a small dose of CBD if you're just getting started for the first time. This 8 ounce jar is perfect to get started with.