CBD Gummies 750mg by Dr Goodhemp
Looking for all natural gummy bears infused with high quality CBD? If so, your search ends here. We offer multi-flavored CBD gummies by Doctor Goodhemp – a well known brand in the CBD market. These gummies contain about 10 MG of CBD in each gummy and there are about 75 gummies in the jar.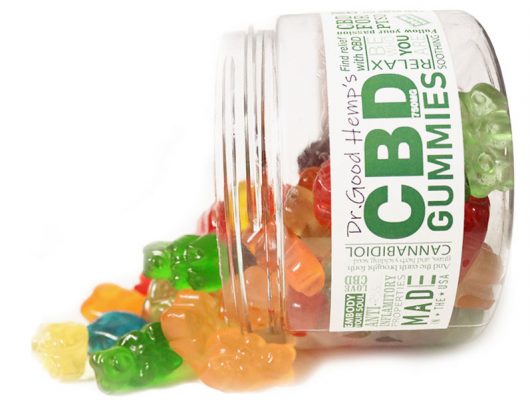 CBD or better known as cannabidiol is extracted from the hemp plant and has been known to provide many health benefits. Some of the most common uses for CBD include treating stress, anxiety and trouble sleeping. CBD is known to help people fall asleep and also helps them stay asleep when they're troubled with anxiety or stress that keeps them awake. It is also known to help reduce pain from inflammation and arthritis. The 750 MG jar of CBD gummies by Doctor Goodhemp is the perfect CBD edible to get started with if you're new to CBD or even if you're a veteran looking to try something new. This jar can last you up to a month or two depending on how often you consume the gummies.
Every year, more and more research is being help regarding CBD and the many benefits it can provide. More recently, according to a publication by Harvard Health – CBD has been studied and evidence suggests that it is very effective for treating some of the cruelest childhood epilepsy syndromes, such as Dravet syndrome and Lennow-Gastaut syndrome which typically do not respond to well to anti-seizure medications. In fact – recently the FDA approved the first ever cannabis derived medicine for these conditions known as Epidiolex, which contains CBD.
What is The Recommended Dosage Amount For CBD?
Because CBD is still relatively new and not regulated as heavily as most medicines, there are no standards or official recommended dosages. It's important to note that there are absolutely no harmful side-effects from using CBD as a supplement and there are not recorded cases of "over-dosing" on CBD. You can take as much CBD as you want and it will not hurt you. With that being said, we don't recommend eating an entire jar of gummies as that can be wasteful and a great way to get a stomach ache from too much sugar. If you take a reasonable amount of CBD, you should notice the health benefits and you don't need to take CBD in excess, the effects don't necessarily work stronger if you take more. Especially when it comes to easing pain, CBD should not be used as a primary pain reliever. We recommend starting out with 2 CBD gummie bears if you're new to CBD. If you feel that you may want to try more because you're suffering from common ailments (i.e. stress, anxiety, arthritis, insomnia etc.) then you can take 3 or 4 gummies. After about an hour you should start to notice the effects of the CBD starting to work. If you don't, remember, just like any supplements if you weigh more, you may need to take more. There is no harm in taking a few more until you find the perfect dosage amount that works for you