CBD Gummies 250mg by Dr Goodhemp
CBD is quickly becoming one of the most popular forms of herbal supplements on the market today due to many reasons. First, CBD is known for providing amazing benefits for individuals who suffer from joint pain related to common knee or lower back injuries. Many customers who suffered from arthritis-related pains also rely on CBD on a daily basis to control their pain. CBD is also widely used for easing stress and anxiety, simply take a little CBD and your anxiety and stress seems to slowly fade away while bringing your state of mind to a calm and relaxed state.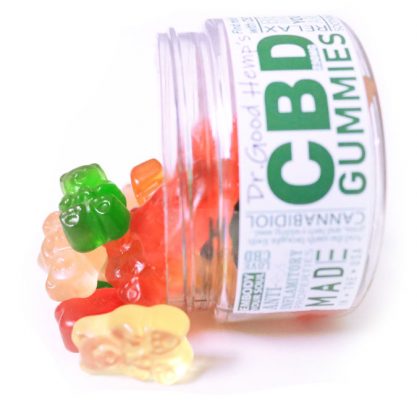 At CBDGoldline.com we carry a wide variety of CBD edibles, the most popular form of edibles are CBD gummy bears. We offer multi-flavored CBD gummies in a variety of size and concentration options. If you're thinking about getting into CBD for the first time, this is a great product to consider. Our 250 MG jar of CBD gummie bears by Doctor Goodhemp comes with about 25 gummies that each contain about 10 MG of CBD. This jar can easily last you for up to a month or longer depending on how often you're taking CBD. Doctor Goodhemp is a well known brand that produces only the highest quality CBD gummies on the market. The CBD products that are listed for sale on our website all come with a certificate of analysis which you can find on our website in the lab report section.
How Much CBD Should I Take?
For individuals that are asking "How many gummies should I eat if it's my first time?" you may just want to eat one or two CBD gummie bears to start. Give it about an hour to wait and see if you notice any of the effects of the CBD. If you have any sort of joint pains or arthritis, you should notice that the pain starts to lessen. If you suffer from high levels of stress or anxiety, after about an hour, you should notice that your stresses start to fade and that your anxiety levels lessen. If you feel that it's not working, you may want to eat one or two more gummie bears.
Keep in mind that there are many scientific studies and trials being conducted that suggest there are no harmful side effects when taking pure CBD. Our CBD is as pure as it can get, we don't add any additives to our CBD and it can safely be taken in large quantities without any harmful or fatal side effects.
When CBD has entered your bloodstream and starts to work its effects, you will notice that you're in a very calm state-of-mind and that you're very worry-free. Although there is no THC in CBD, you will feel a sense of relaxation that is calming and therapeutic for some. CBD is also great for pets that suffer from anxiety due to storms or fireworks and can be used to calm then down during the 4th of July or New Years. View our complete line of CBD dog treats if you're interested in helping your pet.