CBD Edible gummies 20 pack
CBD Edible gummies 20 pack Have you heard of the various benefits that CBD can provide? Ranging from easing anxiety, stress, pain and sleep insomnia, CBD is known to provide many health benefits and they're all natural with no known negative side effects.
Cannabidiol is a supplement which is derived from the Marijuana plant. It is one of many cannabinoids that are found in the Marijuana plant and it does not get you high whatsoever. CBD is safe, very useful and affordable which is why so many people are starting to use it as part of their regular supplementary diet.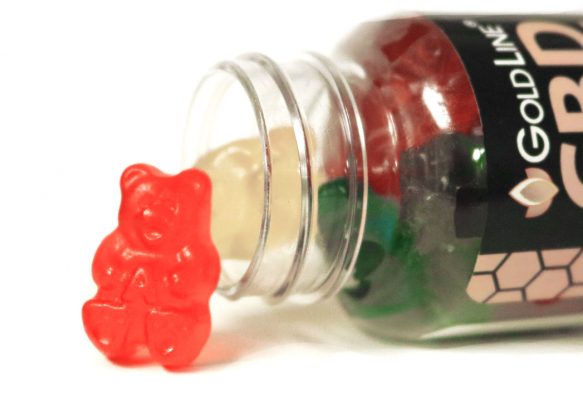 At CBDGoldline.com we carry the highest quality CBD gummies that are accompanied by their very own certificate of analysis. Providing a certificate of analysis is our way of showing customers that we're proud to carry only the best quality CBD gummies that are lab tested for quality control. Our products are not only lab tested, they're also personally tested by staff members that all vouch for the quality of our products.
CBD Gummy Bears (Assorted Flavors) 20 Pack
If you enjoyed gummy bears as a child growing up, you might love them now that they're infused with CBD. That's right, we carry the old-fashioned gummy bears that come in many colors and flavors but they're now containing about 25 MG of CBD per gummy. If you're feeling any sort of pain from inflammation, stress or anxiety – simply eat a gummy bear or two and wait a little bit to feel the positive effects of these Cannabidiol infused gummy bears.
How Many CBD Gummies Should I Eat For The First Time?
Usually if you already have a tolerance for CBD, you can take more than 1 gummy but if you're new to CBD 1 gummy is enough to start with. Keep in mind that there are absolutely no negative side effects when taking a couple of CBD gummies, you cannot overdose on CBD and it is not harmful whatsoever.
Our recommendation is based on an average weight user, if you're an above average weight, you may need more than the recommended dose just as any other type of supplement would require. We recommend starting with 1 gummy bear as a rule of thumb. After taking one gummy bear, if you don't notice that the effects of the CBD are kicking in or if you just want to feel a little more relaxed, try taking one more and waiting 30 minutes.
How Do I Know if CBD Gummies Are Working?
Typically, after about an hour of taking your CBD edible, you will notice that any inflammation or pain from arthritis is usually going to start to fade away or lessen. You'll also notice that you're no longer anxious or stressed out as much as you were before taking the CBD. If you don't really suffer from common joint pains like a bad knee or lower back pain, you might not be able to realize that its working as an anti-inflammatory. You will however have a much calmer state of mind and feel like you're in a much better head space.