Chicken Balls CBD Dog Treats
Did you know that CBD is not only good for humans but it's also beneficial for dogs too? CBD is becoming one of the most widely used herbal supplements on the market due to many reasons. Many doctors and veterinarians are conducting studies that suggest CBD is great for easing anxiety and stress in humans and dogs too. There are also many studies suggesting that CBD is great for treating arthritis pain, reducing inflammation and even helping with sleep insomnia.
Since CBD is extracted from the marijuana plant with laboratory precision, there is no THC inside of the CBD treats. This makes CBD perfectly safe for pets since it doesn't contain the active ingredient in Marijuana known as Tetrahydrocannabinol.
Should I Use CBD for my Dog?
If you're a dog owner and you notice that your pet is suffering from anxiety, stress or any type of arthritis, you may want to try CBD. Many customers have started to use CBD because they have dogs that are really scared of lightning or fireworks. CBD can help dogs that are scared of lightning or fireworks because it calms them down and reduces anxiety.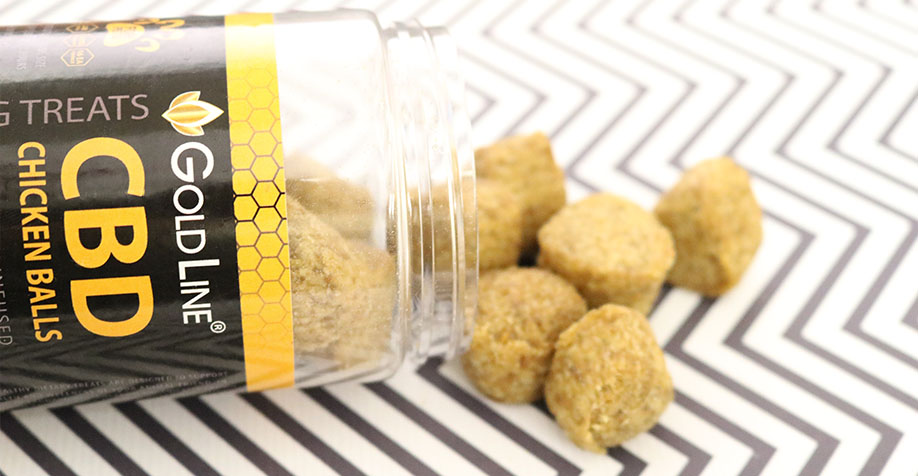 According to the Washington Post, even vice chairman of the American Veterinary Medical Association's Council on Biologic and Therapeutic Agents Jeffrey Powers gives credit to CBD for helping his St Bernard Ella reduce the anxiety and fear she had from lightning and fireworks. Although CBD is still so new, there are many other studies that can be found on the world wide web that suggest CBD can help with many common ailments. Humans and pets all over the country are using CBD and seeing tremendous benefits.
How Much CBD Should I Give My Dog?
Each treat contains 10 MG of CBD. If you have a dog that Is small like a French Bulldog or a Min-Pin Doberman then you might want to try just giving your dog half of a Chicken Balls CBD treat to start with. Any dogs under 50 lbs can start with ½ treat two or three times per day. For dogs that are between 50 and 100 lbs, we recommend 1 treat, two or three times per day. For larger dogs that are over 100 lbs, you can give them 2 treats, two or three times per day.
As a general suggestion, you can start off small and if you don't notice any effects starting off, try to increase the dosage in small increments until you see some effects.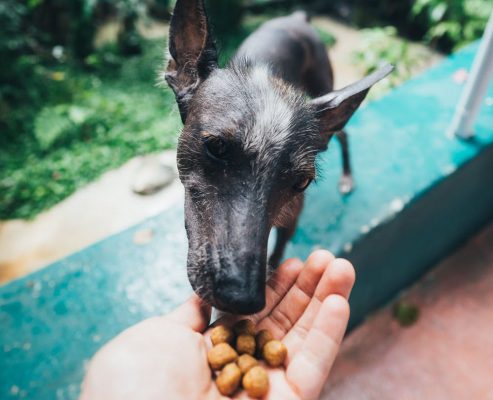 When Should I Use CBD For My Dog?
During a thunderstorm or a holiday like the 4th of July when the fireworks are going off would be a great time to try CBD to see if it helps ease the anxiety your pet normally goes through. If you notice that your 4-legged best friend is still showing signs of anxiety or fear, then you may want to try increasing the dosage a little bit.
Another great time to use CBD for dogs is when they're showing signs of hip pain or joint pain in general. Since CBD is known to work as a great anti-inflammatory. After a long day of playing or running around.