We at CBD GoldLine want to be your trusted source when you buy CBD vape juice online. As with every product we sell, our CBD vape products are well-tested to confirm the highest levels of purity, consistency, and quality. Our commitment to our customers also inspires us to create the most enjoyable products possible, including a line of premium vape juice.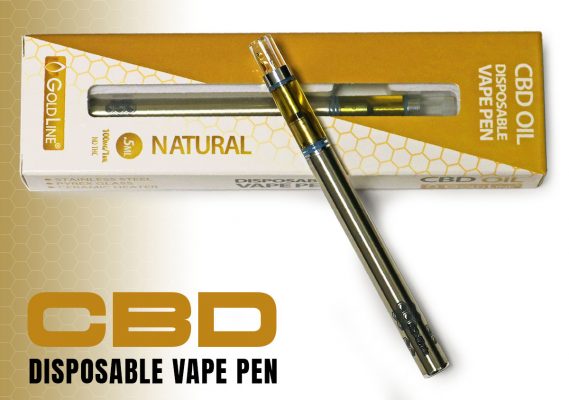 CBD Vape Juice Flavors
We use products like the following to show that all-natural products can still taste great:
● CBD Vape Oil With Natural Hemp Flavor
● Strawberry-Flavored CBD Vape
● Mango CBD Vape Juice Pen
● Tropi-Cool CBD E-Liquid
Our vape juice comes in disposable pens for maximum convenience. In addition to our vape juice, we also offer CBD crumble wax hemp concentrates.
H2 CBD Vape Accessories
People who want to move beyond disposable pens can also find the following CBD vape accessories.
● Reusable CBD Oil Vaporizer
● Vape Pen Batteries
● Vape Cartridge Cleaning Kit
CBD Vape FAQ
Most of the questions we receive have to do with the ingredients of our CBD vape oil. Our only ingredients are United States Pharmaceutical Convention (USP) grade vegetable glycerin, CBD isolate, and natural flavors. We'll happily reaffirm that at any time, especially in this case:
Does CBD Vape Juice Have Vitamin E Acetate?
Absolutely not. Whether you shop with us or someone else, please make sure you don't inhale vitamin E acetate. If you're not familiar with this chemical, it's the one that's been making the news for all the wrong reasons. Health authorities found vitamin E acetate in samples from people who have been diagnosed with lung illnesses that are thought to be related to vaping.
Some counterfeit vape oil companies use vitamin E acetate to dilute their vape oil so they can sell it for a lower price and still make a bigger profit. We completely refuse to do business like that. The wellness of our customers is far more important than making a quick dollar. When you purchase our CBD vape oil, we want you to rest assured that we've gone above and beyond to test it for purity.
Do CBD Vapes Contain Nicotine? Do CBD Vapes Get You High?
Some might, but ours don't. We make products for people who want CBD and only CBD. That means our products do not contain nicotine, and they're made with legal hemp. Hemp is different from marijuana in that it has no more than 0.3% THC. Our products will not make you intoxicated, they will not make you fail a drug test, and they will not put nicotine in your body.
Are CBD Vapes Legal?
CBD from hemp is legal in the United States. We make every effort to deliver positive experiences for our customers, and that includes keeping them out of the way of legal harm.
Buy CBD Vape Juice Online
We founded CBD GoldLine with a few simple standards in mind:
● CBD should be accessible at a fair price.
● All-natural CBD products should be put through strict testing to confirm their quality and ingredients.
● CBD vape oil should come from honest companies that are committed to education.
Here at CBD GoldLine, we don't ask you to take our word for it. On the contrary, we want you to do your own thorough research before you purchase from an online CBD store. Only once you've seen that we stand by our mission to deliver pure products should you buy CBD vape juice online. We look forward to serving you and invite you to contact us with any questions in the meantime.